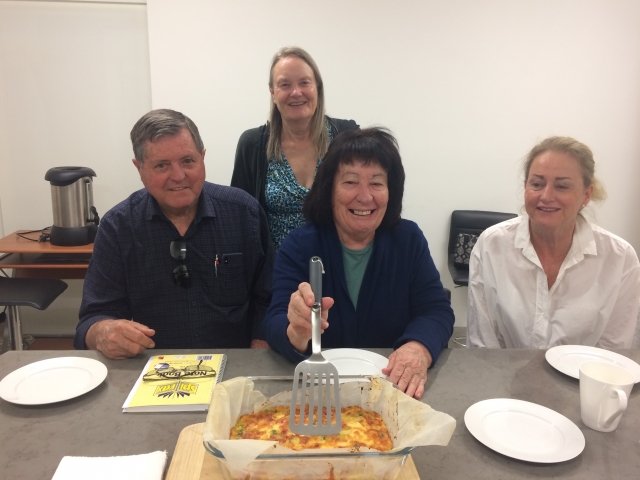 By Pete Chuang
Caught that wonderful smell of eggy baking wafting through from the SPLC kitchen? It was the SPLC Home Chef Club! It already kicked off its third round on November 12, and, oh my, the centre smelled so good that I thought Friday the 12th also deserves attention.
On the first episode of The Real Homechefs of South Perth, SPLC Vollie Barbara Edwards stole the show with a Zucchini & Chorizo Slice recipe she stumbled across in a Coles magazine (scroll down for recipe). The recipe uses up leftovers, which is every homecooker's saviour, and makes for perfect picnic food or sidekick for Boxing Night tea. Traditionally, a zucchini slice calls for olive oil; the Coles recipe gave the batter a feel-good edge by substituting with butter and I was certainly happy. Zucchini, capsicum and chorizo—the recipe gave fridge staples a Mediterranean twist and was five-fingers-lickin'-good.
Props to Barbara the chef, Pauline (Buchanan), Peter (Ingram), and Alison (Orr) the joyful helpers for the day. Each session, members will take turns to stand behind the stove, while others wear the gloves of kitchen hands. Everyone gathers around and relishes the magic of home cooking: cozy, fussless, and spontaneous. Next time on the SPLC Homechef Club: would the MasterChef of South Perth be you? If you are feeling the heat, click here to enrol for Term 1, 2022!